CaliCam® Fisheye Stereo Camera, Pre-calibrated, Depth Sensor, Dynamic FoV and Image Size – No More Camera Calibration!
Camera calibration is a tedious and painful task. CaliCam® relieves the users from camera calibration FOREVER. CaliCam®: Calibrated 3D Stereo Camera Depth Sensor With Dynamic FoV and Image Size. All CaliCam® Stereo Cameras are ready to Plug and Play with A*SLAM Software. You can run A*SLAM software with ANY CaliCam® stereo camera under the TRIAL mode.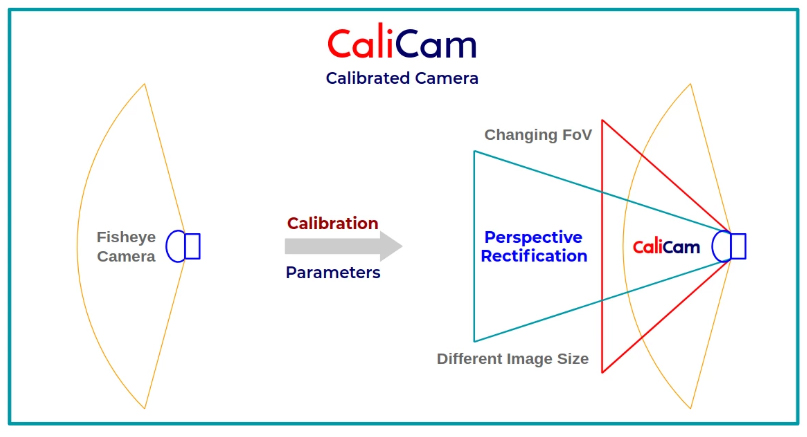 CaliCam® uses the fisheye camera to capture images. Since the CaliCam® is an already Calibrated Camera, the user can easily customize the FoV, image Width and Height based on the application in hand. It essentially equals to resampling from a wide FoV image with known parameters.
How to use: https://github.com/astar-ai/calicam
Download Parameter File
For example, to download a parameter file with the serial number 21-181220-0001, you can use the following command on Ubuntu:
wget https://astar.support/data/181220/21-181220-0001.yml
Each unique serial number is printed on the camera board.
Features:
Fisheye Lenses
Calibration Parameter File @ 2560 X 960
UVC Compatible (Driver free)
Baseline: 12 cm
Field of View: Horizontal 200°
Pixel Size: 3.75 X 3.75 µm
Scanning Mode: Electronic Rolling Shutter
Output Data Format: MJPEG / YUV2 (YUYV)
Interface: USB 3.0
PCB Dimension: 150 X 30 mm
Resolution:
2560 X 960 @ 30Hz
2560 X 720 @ 30Hz
1280 X 480 @ 30Hz
Return policy:
We provide replacement for CaliCam product, customer will afford the return cost.